Karen Snipes takes a phone call about her missing daughter, Larie Butler, 17, while cradled by her friend, Lisa, at her home in Rochester, N.Y. Karen reported Larie missing when she didn't return home from a visit to the mall with family friend, DeVonte Lively. Five days after Larie was reported missing, her body was found in an Irondequoit swimming pool and Lively was later sentenced to 25-years-to-life in prison. "Now I have to go to a gravesite and visit my daughter for her birthday and holidays. She should be crossing the stage to graduate," said Karen.
Ray Rodriguez, a member of the board of directors for Out Boulder, speaks during a vigil held in Boulder, Colo. for the victims of the mass shooting at the gay nightclub Pulse in Orlando, Fla.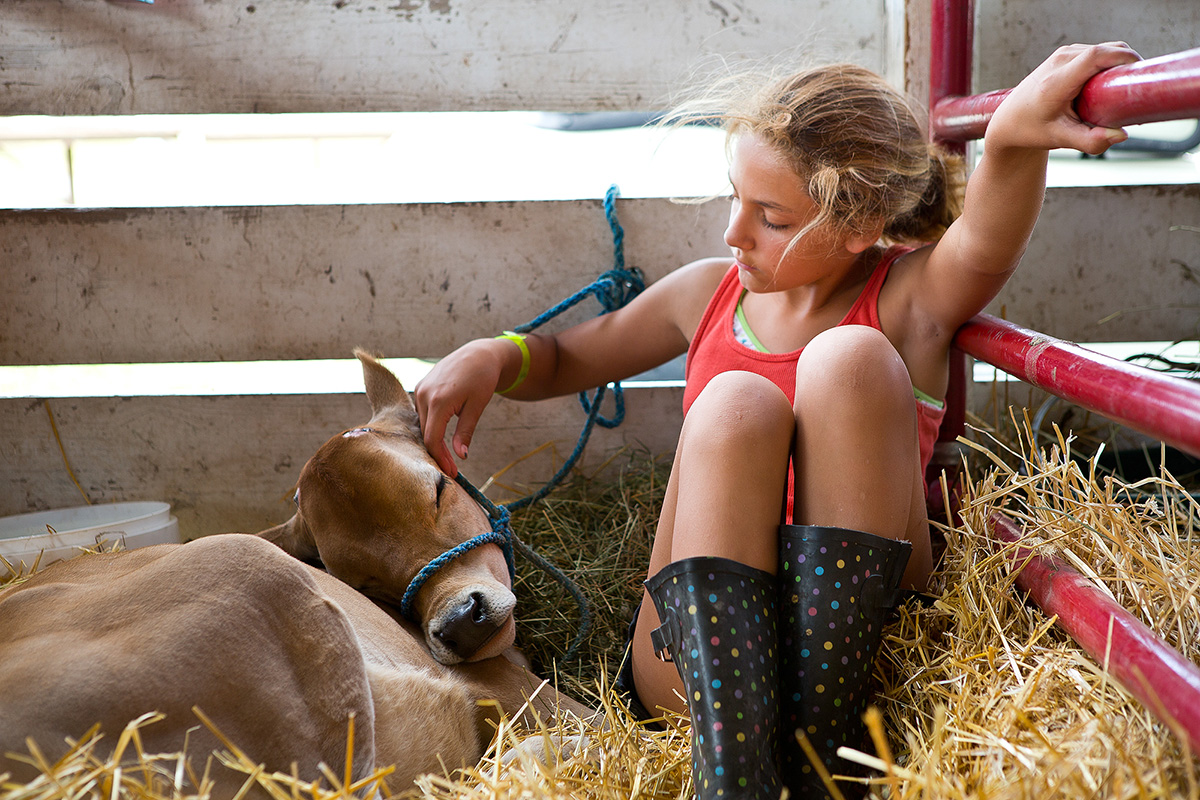 Kaleena Andress, 11, rubs water on her dairy calf, Evie, to cool her down from the heat during The Hemlock 'Little World's' Fair in Hemlock, N.Y.
Tim Morton (from left), 15, Charlie Craighill and Andrew Shaw share a laugh as Shaw uses a long pole to help the Mary Marshall gain speed as they head down the James River during the fifth day of the 29th annual James River Batteau Festival. The 120-mile journey — from Lynchburg to Maiden's Landing — features 18 crews who navigate wooden batteaux resembling the 18th- and early 19th-century cargo boats.
Lek Jirangpitakkul (left) and Oum Jirangpitakkul take in the view of the snow covered foothills at Chautauqua Park in Boulder, Colo.
Michael Allen Bailey, 50, who is accused of shooting his neighbor, is loaded into an ambulance before being transported to Mary Washington Hospital following a standoff with law enforcement officers outside his apartment at The Commons at Cowan Boulevard in Fredericksburg, Va. Nearly six hours after the initial shooting, Bailey walked out of his apartment, surrendered to the police and has since been charged with more than 13 felony offenses.
Firefighters and rescue personnel work along the tracks where several CSX tankers carrying crude oil derailed and caught fire, spilling 20,000-plus gallons of oil into the James River in Lynchburg, Va.
Dana Karcher and her husband Steve pray as Bishop Talton preaches at St. Paul's Episcopal Church in Bakersfield, Calif. St. Paul's Episcopal Church invited their community to a Festival Holy Eucharist of Welcome to rejoice the return of the church property after theological differences split the diocese in 2007.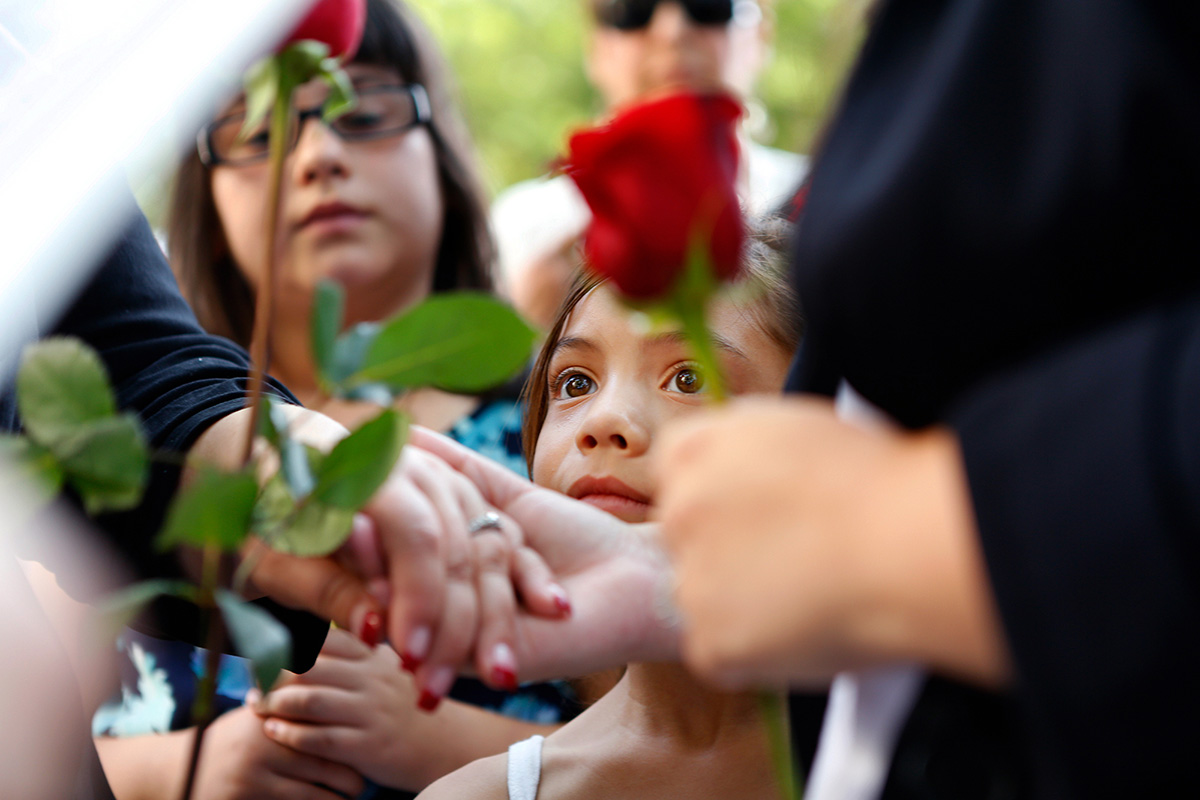 Maryjane Diaz 7, watches as her mother Erica Vargas marries Litcatzin Yoakum outside of the Kern County clerk's office in Bakersfield, Calif. Same-sex couples gathered early to receive their marriage licenses as the clerk's office resumed issuing same-sex marriage licenses after a four-and-a-half year ban implemented by Proposition 8 was uplifted.
Bobby Morrell (left) talks with Jennifer Arnold outside of the Kern County clerk's office in Bakersfield, Calif. Same-sex couples gathered early to receive their marriage licenses as the clerk's office resumed issuing same-sex marriage licenses after a four-and-a-half year ban implemented by Proposition 8 was uplifted.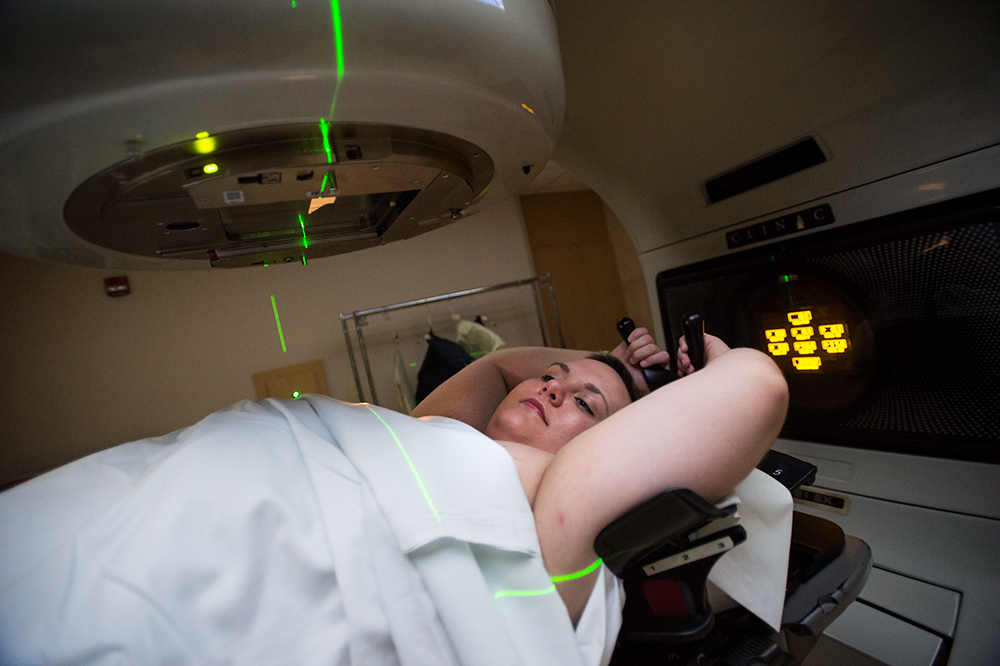 Kathleen Lifsey, 24, holds still as nurses line her up to receive daily radiation treatment at the Alan B. Pearson Cancer Center in Lynchburg, Va. Lifsey, who was first diagnosed when she was 20-years-old, is battling breast cancer for the second time. "Instinctively I chose to fight instead of just crumble," she said.
Stephanie Gray attends a vigil for reporter Alison Parker and cameraman Adam Ward, who were shot to death during a live broadcast at Bridgewater Plaza in Moneta, Va.
Dylan Lupton sleeps on the ground while waiting for the premier of Star Wars: The Force Awakens at Regal Cinemas in Lynchburg, Va.
George Rogers was a prisoner of war for almost four years in Japan during WWII. "It was my job to dig graves. In that grave we would bury ten soldiers," said Rogers, who helped bury 1,600 Americans in just four months. The Japanese government has invited Rogers, along with other surviving POW's, to take a tour of modern Japan to foster forgiveness.
Christina Longman, a crew member with Fair Winds Hot Air Balloon Flights, helps take down an air balloon after a morning launch in Lafayette, Colo.
Jimena Becerril, 13, laughs as Doctor Alex Bulkacz applies anesthesia to a skin tag during a visit to Clinica Campesina Family Health Services in Lafayette, Colo. Clinica Campesina is going to build a new 65,000 square foot facility in Lafayette to take the place of this existing facility.
Javier Medina, 17, left, hugs his fellow Rebels teammates during the funeral for South High School's football coach John Wren at The Church of Jesus Christ of Latter-Day Saints in Bakersfield, Calif. John Wren, 44, who was considered both a father figure and mentor to the team, died unexpectedly in his sleep a week prior.
Barak Gills, a homeless man, kisses his dog Jack while waiting for lunch outside of the Carriage House in Boulder, Colo.
Erin Alburger, 11, participates in a staring exercise as students learn how to become clowns during Randolph's WildCat Theatre Conservatory in Lynchburg, Va.
Alum Terry Evans (right) consoles junior Katy Drew as the Sweet Briar community welcomes back their students from spring break in Amherst, Va. Sweet Briar College announced the school would close due to financial issues, but after months of legal struggle, leaders of Sweet Briar College and the Saving Sweet Briar movement reached an agreement to save the college and keep it open for the 2015-16 school year under new leadership.
Renee Rodgers, an instructor with Everest Healing Yoga, leads a yoga class at Chautauqua Park in Boulder, Colo.
Mark Baksh joins friends in the "sonic portal spaceship," encircled by vibrating gongs set up to help festival-goers relax at the Lockn' music festival in Arrington, Va. Baksh said the experience felt like a "brain massage."
Cody Hales, 4, (center) grabs onto his brother Christopher, 8, (right) as they stumble over rocks while wading into the James River, determined to catch some fish during the James River Transportation Festival. "We wanted to show them the beauty of Virginia," said Caroline Wilson, whose grandchildren are visiting from North Carolina.
Thomas Beal sprays himself with sunscreen before beginning the biking portion of the Longmont Triathlon at Centennial Pool in Longmont, Colo.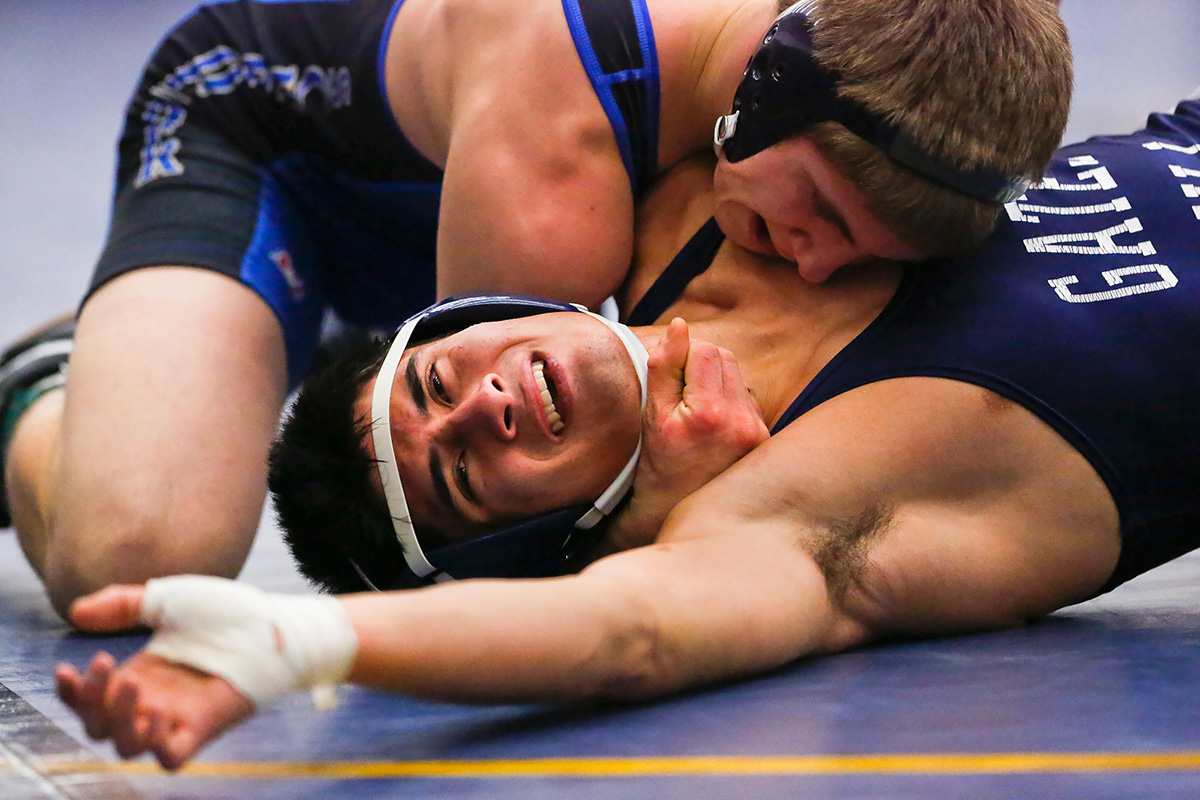 Sam Vacchetto of Webster Schroeder Warriors defeats Christian Ferrante during the quarter finals at the Monroe County League Wrestling Championship in Webster, N.Y.